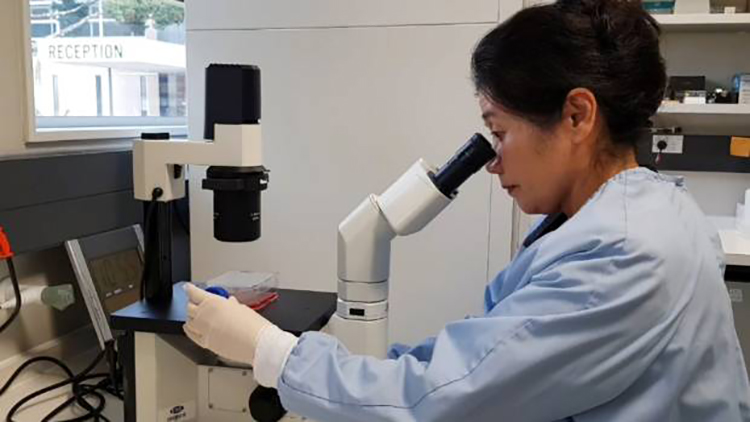 The innovative ESR-led WellKiwis study continues to grow as it moves towards recruiting 600 Wellin​​gton w​hānau, who are helping revolutionise vaccine development and b​uilding understanding about immune imprinting. WellKiwis attracted significant interest after the study was canvassed on TVNZ's Sunday recently, but, as the Programme's Principal Investigator Dr Sue Huang says, more whānau need to join.
Developing a universal flu vaccine
For the past 70 years, virologists like Dr Huang have competed with viruses when developing vaccinations, continually adapting vaccine strains and looking ahead six months to ensure the selected vaccine strains match well with the circulating flu variants. This means the vaccine will be most effective against flu infections. "We are competing with the virus all the time, chasing the tail of rapidly changing viruses," says Sue.
But imagine not having to get a flu vaccine each year. By joining WellKiwis, whānau are enabling research into immune imprinting that might mean we could do away with annual flu vaccines and instead have access to more reliable vaccinations that only need to be administered every few years. As Dr Huang says, while WellKiwis is first and foremost a flu study, the programme's research can also be used in the fight against COVID-19, meaning the study could potentially help save millions of lives globally.
Aotearoa's stringent border measures since the onset of the COVID-19 pandemic mean by far most WellKiwis whānau will never have been exposed to COVID-19, unlike families in Nicaragua and Los Angeles where sister studies are taking place. This gives 'an incredibly clean baseline', yielding the WellKiwis team and other researchers insights about how COVID-19 vaccines might be tailored in future.
Why should whānau join the programme?
Sunday follows the journeys of two WellKiwis whānau: Jamie and Wade Martin, and Abi and Mike Prescott. Abi was admitted to Hutt Hospital while in the second trimester of pregnancy after coming down with Influenza A, despite being fully vaccinated: "I do wonder if I wasn't vaccinated how much worse I would have been."
Jamie and her whānau were prompted to join WellKiwis and to help find more effective vaccines by the experience they had after their eldest daughter caught meningococcal and nearly died during infancy. "Things like that open your eyes so, so much. You realise you can either sit there and watch it go by or you can stand up and help". Abi agrees: "it is very cool that me and my family, here in Wellington of all places, can be involved with something so big".
The new family referrals the WellKiwis team has received since Sunday aired speak to the study's growing prominence.
WellKiwis is a unique programme that ESR is incredibly proud to be associated with, but Sue and the team leading this research need to recruit 600 whānau. If you know someone who's expecting a baby in Wellington, please tell them to head to wellkiwis.co.nz so their whānau can also help this groundbreaking mahi. Sue and the team are also looking for around 150 families with at least one child aged 19 years or younger to join. If you and your family are interested, visit the website or email the team: wellkiwis@esr.cri.nz.
After all, as Jamie says, "eventually, things are going to start happening. I'm ecstatic that me and my whānau are a part of a study that could potentially save lives".
The science underpinning WellKiwis
It's fair to say that now more than ever, we're aware of just how vital vaccination is.
WellKiwis focuses on pēpe and tamariki up to age seven in the hunt for more effective flu vaccines, because their immune systems haven't been exposed to pathogens or viruses, and their first exposure to viruses like influenza leaves very deep impressions on their immune systems. This is called immune imprinting (or birth effect for babies).
"If we understand the mechanism, we can replicate how babies manage to mount this very impressive immune imprinting, and then we can have a very powerful vaccine for the future," says Sue.
Pēpe and tamariki enrolled in WellKiwis are regularly visited by nurses and blood samples are taken whenever they're unwell. Swabs are also collected from whānau to understand transmission dynamics in the household. These samples are then analysed by the WellKiwis team at ESR's Wallaceville Science Centre in Upper Hutt.
Be sure to watch the Sunday segment below. You can find out more about WellKiwis on the study's website.