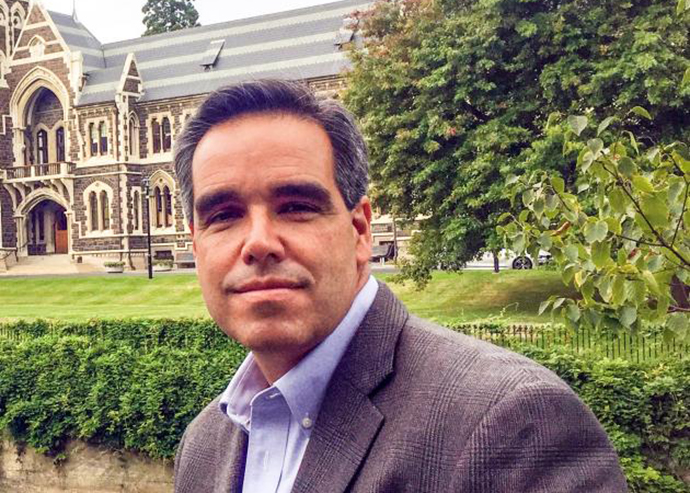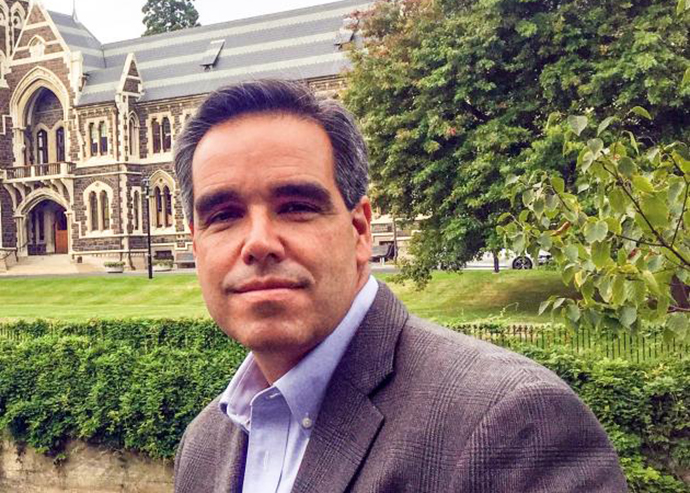 Following an extensive international search, Professor Miguel Quiñones-Mateu has been appointed as the second holder of the Webster Family Chair in Viral Pathogenesis in the University of Otago's Department of Microbiology and Immunology, School of Biomedical Sciences.
Inaugural recipient Professor Andrew Mercer held the position from 2005 until his retirement last year.
Professor Quiñones-Mateu thanks the Webster family for the opportunity to conduct research and continue his career at Otago.
"Otago has a long history of outstanding research and accomplishments in the microbiology field and I am looking forward to putting my 'two cents' in to contribute to, or even expand, the success of the Department of Microbiology and Immunology, mainly by focusing on viral pathogenesis.
"Together with Vice-Chancellor Professor Harlene Hayne, and Professors Vernon Ward and Clive Ronson, the Webster Family Chair was the catalyst that translated my dream of working in New Zealand into reality," he says.
Venezuelan-born, Professor Quiñones-Mateu gained a BSc in Biology from the Universidad Central de Venezuela in 1990 before PhD studies in Molecular Biology at the Universidad Autónoma de Madrid.
His doctoral thesis was entitled Genetic Variability of the Human Immunodeficiency Virus – Molecular Epidemiology and Implications for AIDS control.
Before coming to Otago he spent 22 years working on basic and translational research in academia and industry, the last four as Associate Professor at the Department of Pathology, School of Medicine, Case Western Reserve University, Cleveland, Ohio.
His more recent work involves HIV drug resistance, reservoir and persistence, virome and microbiome studies both in the US and in Africa. He is the inventor of a deep sequencing-based HIV-1 genotyping assay (DEEPGEN™, patented and currently used in the clinical setting in the US and Uganda) and co-inventor of another deep sequencing-based test to characterize the HIV-1 reservoir (EDITS™, patent pending).
"I started working on HIV/AIDS as a graduate student and it has pretty much been the focus of my career until now. A few years ago, coinciding with the advent of the so-called 'next-generation' (deep) sequencing, I started to explore other areas, namely virus discovery and virome studies."
While he will continue to work on HIV and complete a series of studies related to drug resistance and latency to the disease in Africa and Asia, he says his new position will allow him to continue exploring novel and exciting areas in virology.
"I plan to focus my novel research programme on emergent viruses that could pose a threat to the biosecurity of New Zealand. This will involve using state-of-the-art genomics and bioinformatics methodologies, together with classical virology systems, to work on a series of relevant basic and translational research projects."
Since taking up the position in late January 2019 he has met many of the "key players" at Otago's Dunedin and Christchurch campuses, and at other universities and institutions in Auckland, Wellington and Palmerston North.
"I am looking forward to learning more about what my colleagues are doing, our local and national needs, and understanding how I can contribute to the advancement, promotion and dissemination of virology in New Zealand."
The Webster Family Chair in Viral Pathogenesis was established in 2005 by Otago alumnus and internationally-renowned virologist Professor Robert Webster and family, in conjunction with the Leading Thinkers campaign.
Professor Webster says he and his wife Marjorie were delighted with the appointment.
"I whole-heartedly agree with the appointment. Professor Quiñones-Mateu has been a clinician in a very, very reputable clinic, which is in many ways comparable in standing to [St Jude Children's Research Hospital] where I worked.
"I think it's an excellent appointment at a very exciting time for research. We now have the ability to manipulate the genome of the host, the virus and the human; the possibilities for understanding more about the whole chain – using things like CRISPR-cas technology – is immense."
Professor Webster says that just as technology has enhanced our understanding of manipulating genetic information, it may come to speed up our ability to make universal vaccines and animals resistant to flu.
"It's a time when important discoveries can be made by the scientific community, if they support genetic analysis and don't put too many restrictions on research," he says.
Professor Webster credits Mrs Webster – an Otago Home Science School alumna – with proposing the establishment of the Chair.
"After graduating we mostly lived in Australia and the US, but have always felt the University and New Zealand gave us our start in life. It was time to give something back to the country and the University."
The Websters met while studying, although Professor Webster says their introduction left little room for pleasantries; the two Otago University Tramping Club members had not crossed paths until an outing to Trotters Gorge where, during heavy rain, he "pulled [his] future wife from a swollen river."
Although retired from research Professor Webster is still active in writing about his career and virology. His book Flu Hunter (published by Otago University Press) was launched in New Zealand last September.