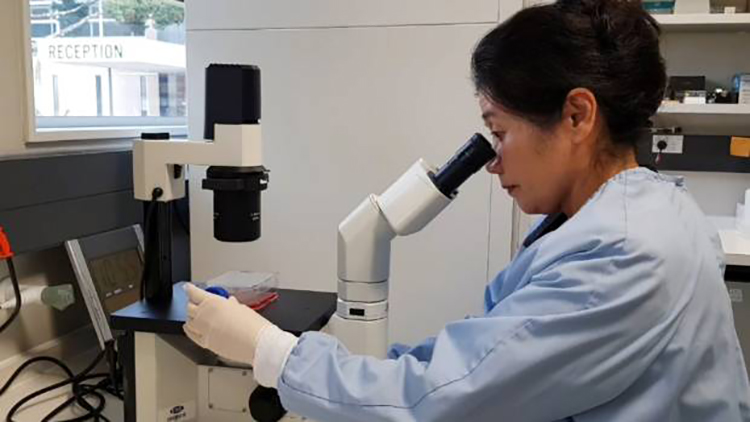 Work undertaken by ESR scientists is the first in the world to show a particular and surprising immune response among people to influenza, and could help pave the way to a globally-sought universal flu vaccine.
The study has significantly changed understanding of a critical part of the influenza virus, with an ESR report on its research having just been accepted by the prestigious Journal of Infectious Diseases.
The ESR "SHIVERS" (Southern Hemisphere Influenza and Vaccine Effectiveness Research and Surveillance) looked at 1500 children and adults, who were randomly selected from GP practices in Auckland.
The project's Principal Investigator, ESR scientist Sue Huang [MP4, 31 MB], says flu viruses have two main proteins, and the accepted practice over many years has been to focus on immune responses against the haemagglutinin protein, which is the most common protein found on the influenza virus surface.
"The study surprised us by showing a strong and robust immune response against the second most abundant protein in influenza, neuraminidase, particularly among children under five," she says.
There was also a response of a similar strength among people infected with influenza B virus.
Dr Huang says no previous study has looked at the antibody response to the two proteins from the same person at the same time during natural flu infections, in a population-based serosurvey.
"Our results have generated an important understanding of people's immune response against this protein, neuraminidase."
Dr Huang says current vaccines target haemagglutinin, whereas neuraminidase is a largely ignored component in vaccine development.
"Neuraminidase has been like the poor cousin compared to haemagglutinin"
She says the findings have important implications.
"Comparing antibody responses to the two most abundant proteins of the influenza virus will not only improve understanding of how the body responds to and protects itself against flu, but will also optimise pandemic and seasonal vaccine design, particularly for the development of broad and durable universal vaccines."
The hunt for a universal vaccine, which could eliminate the need to update and administer the seasonal flu vaccine each year, is the subject of intense research around the world.
The US Congress alone has committed $(US)1billion in funding in the pursuit of such a vaccine, which would provide robust, broad and long-lasting protection against multiple subtypes of flu, rather than a select few.
Following the findings of SHIVERS, ESR has been awarded an international contract, SHIVERS-II to continue to focus on people's immune response to flu vaccines or infections.
The ESR-led study (SHIVERS), is a multi-agency collaboration between, Auckland District Health Board (ADHB), Counties Manukau District Health Board (CMDHB), The University of Auckland, University of Otago, US Centers for Disease Control and Prevention and the WHO Influenza Collaborating Centre at St Jude Children's Hospital in Memphis, USA as well as Primary Health Organisations, general practices and Auckland Regional Public Health Services.